Day Excursion Places
---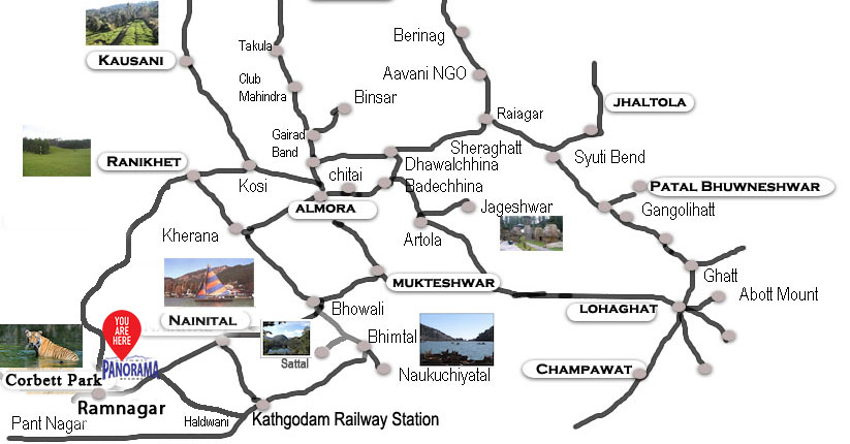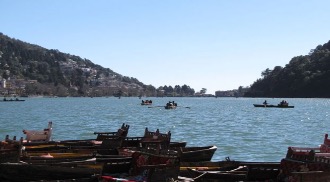 Nainital – The Lake City of India
(60 kms / 1 hr 45 mins)
Enveloped in a thick foil of nature, accentuated by the scent of the flowering blossoms blending miraculously in the crisp fresh air, Nainital is truly the treasure trove of Kumaon. It is among the most visited hill stations of North India since British period.
Perched at an elevation of 2,084 metres above sea level, the glittering city of Nainital is hailed for being a parent to the ravishing Naini Lake from which it has earned the epithet of being the lake city.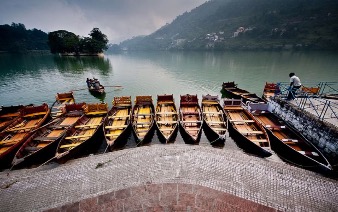 Bhimtal – Glittering Lake City
(80 kms / 2 hr)
Bhimtal is a lake city named after Bhima, the charismatic mythological character of Mahabharata. Revered for its aesthetic beauty, Bhimtal proudly sits at an altitude of 1,370 metres above sea level. This lake city is gaining popularity with each day as it is located in the vicinity of Nainital and features some of the stately hotels that are comparatively cheaper than that of Nainital.
The Bhimtal lake is at a scenic spot with a small island at its centre on which there is a beautiful large aquarium which was previously a restaurant. Bhimtal affords splendid views and visual vistas of nature's beauty.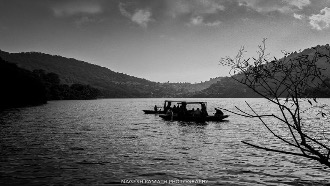 Naukuchiatal – Lake With Nine Corners
(85 kms / 2 hr 20 mins)
Naukuchiatal literally suggests a nine-cornered Lake, perched at an elevation of 1220 mts above sea level in the Nainital district of Uttarakhand state. The length of the lake is approximately 1 km and it has a depth of around 40 mts. It is the deepest lake in the greater Nainital area.
Naukuchiatal is situated in an enchanting valley providing ample scope for boating, rowing, paddling, and yatching.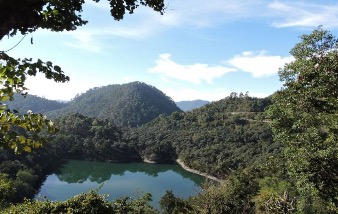 Sattal – Cluster of Seven Lakes
(90 kms / 2 hr 30 mins)
Sattal is a cluster of mysteriously inter-connected seven freshwater lakes located in the Nainital district of Kumaon region. Sat Tal is perched at an altitude of 1370 mts above sea level offering splendors of nature. The group of lakes is set amidst dense forests of oak and pine trees.
Sattal that literally suggests the 'Seven Lakes' is a scenic place which exhibits idyllic surroundings accentuated by the delightful atmosphere that could even tempt the lousy ones to have a rendezvous. Sattal is a perfect destination for the honeymooners, nature lovers, groups, families and the leisure seeking tourists.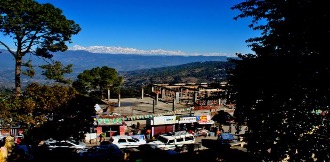 Ranikhet – Meadows of the Queen
(98 kms / 3 hr)
The charming hill station of Ranikhet is located in the Almora district of Uttarakhand at an elevation of 1,829 mts above sea level. Ranikhet has everything to pacify the nerves of an avid city dweller.
The hill station Ranikhet, literally meaning – Queens Land, is an all season tourist-spot for the admirers of the natural beauty. Ranikhet is a place that reflects the best of the great Himalayas.